Frequently Asked Questions
Categories
Browse the list below for answers to questions you may have, or directly type keywords into the search bar for a more efficient query that will yield multiple similar results. 
Don't see the answer you need? Give us a call at (800) 936-0896 or email at sales@midstatecontainers.com.
1. Container conditions and components
Are containers weatherproof and waterproof?
It depends on the grade of the container, but, yes, nearly all of our containers are weatherproof and waterproof. The only containers not guaranteed to be weather- and waterproof are the "As Is." We do not recommend purchasing these containers if you desire to have your cargo protected from the elements.

View our container grades here for more information.
What is the maximum weight a container can hold?
That depends on the size of the container.
The max. gross weight of a 10' container is ~22,400; net weight ~19,500.
The maximum gross weight of a 20' container is ~67,000lbs with a net weight of ~63,100.
The max. gross weight of a 40' container is ~71,900 with a net weight of ~63,500.
A 40' High Cube has a max. gross of ~71,800 and a net of ~63,200.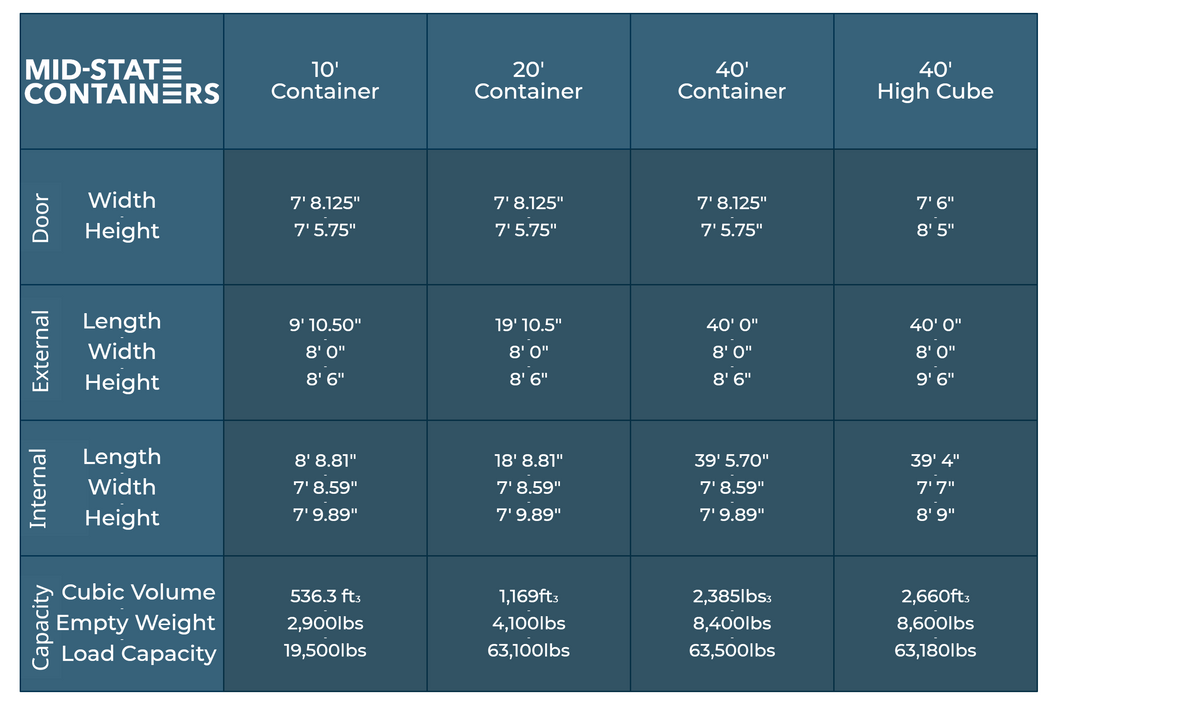 What's the difference between the various container grades?
Generally speaking, physical condition and quality are the only differences between the various container grades. Factors such as the age of the container, amount of usage, damage accrued through that usage, and lifetime exposure to the elements can all affect its condition and quality, but are not perfectly correlated with the container grade.
Read more on our container grades here.
What color do they come in? Can I request a color?
Used containers come in a few select colors, namely reddish-brown, blue, and green. Newer, one-trip containers are typically a light tan or light grey color. Due to covid-related supply shortages and complications, we don't have as much control over the types and colors of containers we're receiving, which means you, too, will be limited in container colors you can pick.
We do offer painting services. We offer tan or light grey options, but if you would like a custom color, we can do any color off of the Sherwin-Williams color board. Custom color is an additional $50.
Check out our painting prices here.
Are containers rusty?
It depends on the grade of container. "As Is" containers, which are our lowest-graded containers available, may have structural rust, which potentially puts the integrity of the container at risk.
Other, higher-quality containers may have some minor cosmetic rust, such as our "Wind and Watertight" and "Cargo Worthy" grades. "One Trip" containers will be free of rust.
Are there holes and dents?
It depends on the grade of container, but, generally, no there will not be holes or dents. You are entitled to an inspection prior to delivery.
Is there anything inside the container to keep my belongings from shifting?
Aside from a few 'O Rings' as an anchor point for your cargo straps, no. Depending on belongings you will be storing, make sure you pack them correctly to minimize shifting and sliding.
What items and substances should not be stored inside a container?
Hazardous materials and substances as well as perishable items should not be stored inside of your container. Items such as explosives, fireworks, batteries, produce, animals, gasoline, pesticides, and ammunition should not be stored.
For specific inquiries, give us a call or contact us via email.
How secure are they?
While there is always a risk of a break-in, theft, or accident, steel shipping containers are extremely secure, both because of their strength and durability, as well as their ability to be secured further with additional locking mechanisms.
What modifications can be added to a "bare bones" container?
We have many different modification options that can be added to a "bare bones" container, including doors, windows, A/C, ventilation, skylights, insulation, and more. View our whole selection of modifications in our menu under 'Modifications'.
Not seeing quite what you need? Feel free to get a custom quote and/or feedback by giving us a call or through the contact form on our website here.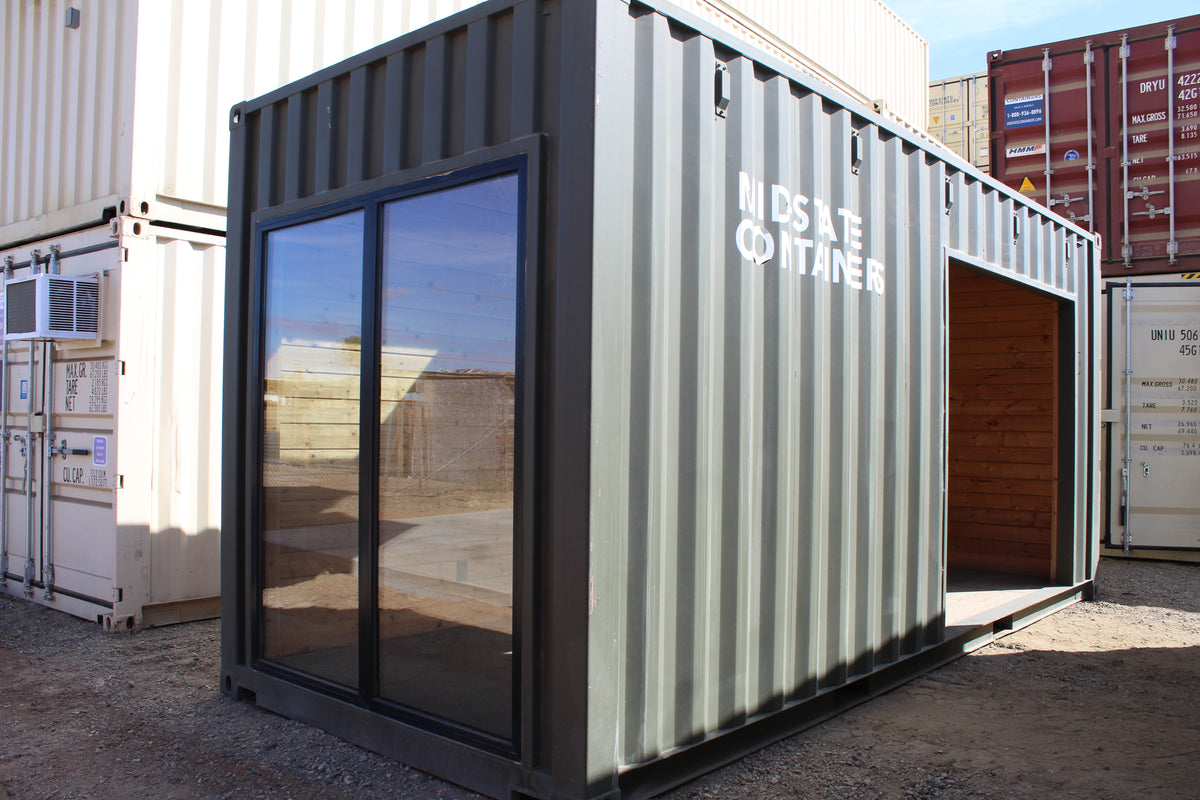 What are the different types, sizes and grades of containers?
There are two broad categories of container: dry-shipping and refrigerated.
For sizes, we have 10', 20', 30', 40', and 45'. If standard height, then they are 8'6" tall; if High Cube, then they are 9'6" tall, a full foot higher than standard.
As far as grades, we have "One Trip," Cargo Worthy, Cargo Worthy Premium, Wind and Watertight, and "As Is." Read more on our container grades here.
Can I inspect my container prior to delivery?
Of course! You can inspect your container prior to delivery.
How long will the shipping container last?
It depends on the grade, but we guarantee all of our containers for at least 1 year. Depending on how well you maintain it, the container will last much, much, much longer than that.
Do shipping containers have titles?
No, they do not have titles. Only vehicles with wheels (e.g., cars, trailers) are required to have titles in the United States.
Can they withstand fires, floods, earthquakes, hurricanes and tornadoes?
Those are five very different scenarios with five different answers.
Fires: If the fire starts in the interior of the container, it would likely extinguish itself once it ran out of oxygen, but this is dependent on what the container is being used for and whether it is still air-tight. Your cargo would likely be cooked, though. As for a fire threatening its exterior, firefighters have built training facilities from containers due to their fire-resistance, so the container remaining intact is more than likely.
Floods: Containers are built to be weather-resistant and airtight, but a completely or partially submerged container and its interior would likely be compromised by a flood. The container itself could be picked up and carried by powerful flood waters and displace it.
Earthquakes: A container should have no issue surviving an earthquake. Indeed, it has been reported that earthquake-prone nations such as Haiti have turned to structures made out of shipping containers due to their durability and integrity. Surviving collateral damage of an earthquake is another issue, though. Collapsing concrete or metal from surrounding structures could cause significant damage.
Hurricanes: Unsecured shipping containers can withstand extremely high winds, up to 100 MPH. Flying debris could cause issues.
Tornadoes: Similarly, tornadoes have high winds and toss around debris, but a shipping container should have no issue withstanding one.
Can you bury a container underground or wedge it inside a hill?
You could, but it is absolutely not safe to do so without professional guidance and installation. Shipping containers are designed to carry the weight in the corners. They are not designed to withstand the constant pressure of heavy dirt or sand, particularly on the sides and roof.
That said, some people have successfully buried their containers, but that's usually in conjunction with other precautionary or supportive measures, such as concrete forms or Gabion baskets. Please consult with a professional if you consider burying your container.
What is the cheapest container you offer?
The cheapest container grade we offer is "As Is." Due to the extreme variability in these containers' condition, such as structural rust or holes in the roof or walls, each container's price is evaluated on a case-by-case basis. Please give us a call or send us an email for more information.
Our Wind and Watertight-grade containers are the cheapest, most structurally secure ones we offer. These have the most visible wear and tear on the exterior, but they will still be completely watertight and weatherproof.
Will a container rust over time?
Since shipping containers are made from steel, they will rust over time. Marine-grade steel has anti-corrosive properties, but, depending on how moist the environment is, the container will still be susceptible. Keeping your container as dry as possible will help prevent or delay the onset of rust, which includes draining areas which collect water and keeping it lifted off of the ground.
Surface rust is mainly cosmetic and will not affect the structural integrity of your container, but it can develop into harmful structural rust, which will affect your container's integrity.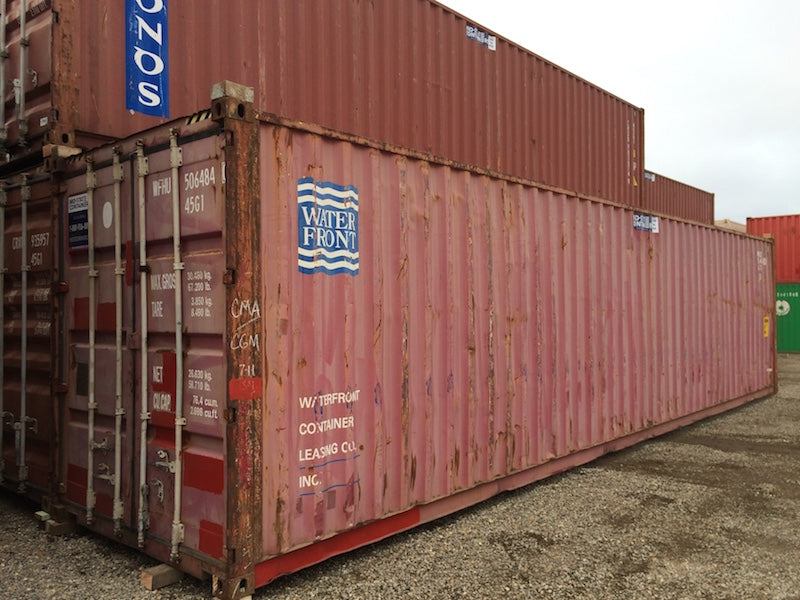 How do I export a container?
You'll want to chat with a freight forwarding company to get an idea of the pricing and logistics. A Google search of freight forwarding companies will yield plenty of results.
What are the power requirements to power a refrigerated container?
Refrigerated containers (reefers) operate with 460 VAC 3 Phase 60 Hz power ONLY. Set-up transformers are required to operate on 208 or 230 VAC 3 Phase 60 Hz power.
Should I rent or buy?
That depends on what you'd like to do with the container!
Give us a call or send us an email and we can give you some detailed advice specific to your situation.
2. Anatomy of a container
What comes with a container?
Base containers come completely empty. All containers do have marine-grade plywood flooring as well as pressure vents on the outside, though, which allow some air flow. Both are standard.
What are the internal dimensions?
Internal dimensions of dry-cargo containers are listed below.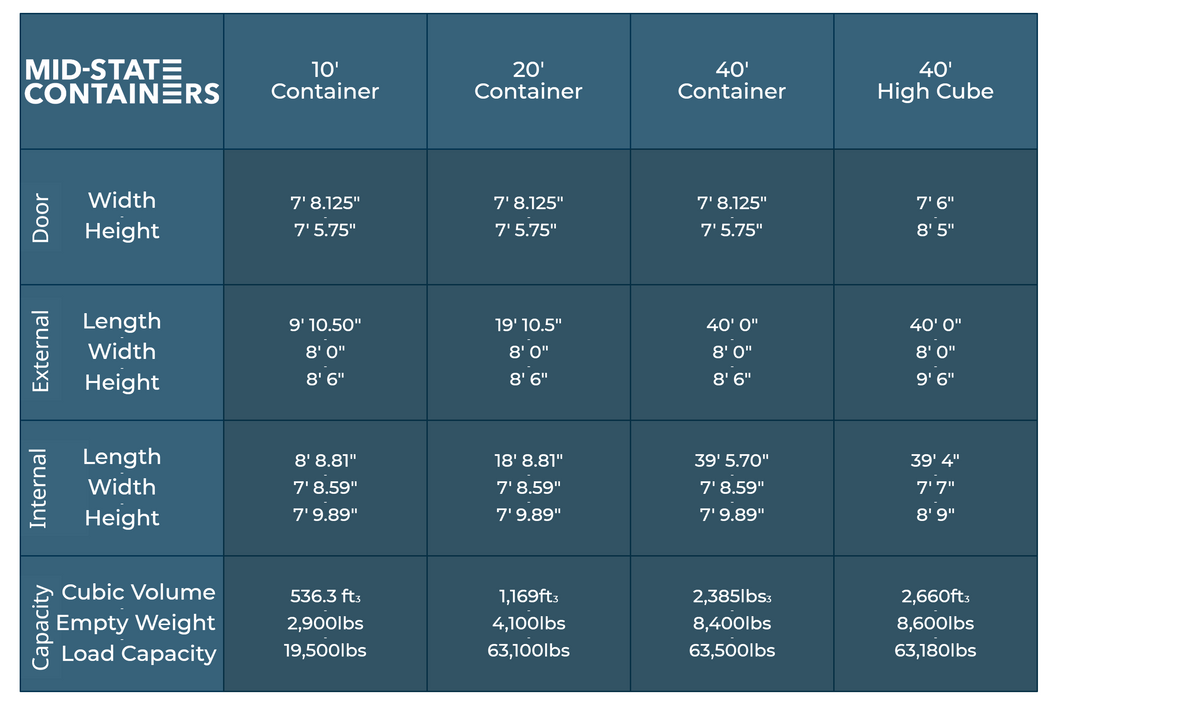 What are the external dimensions?
External dimensions of dry-cargo containers are listed below.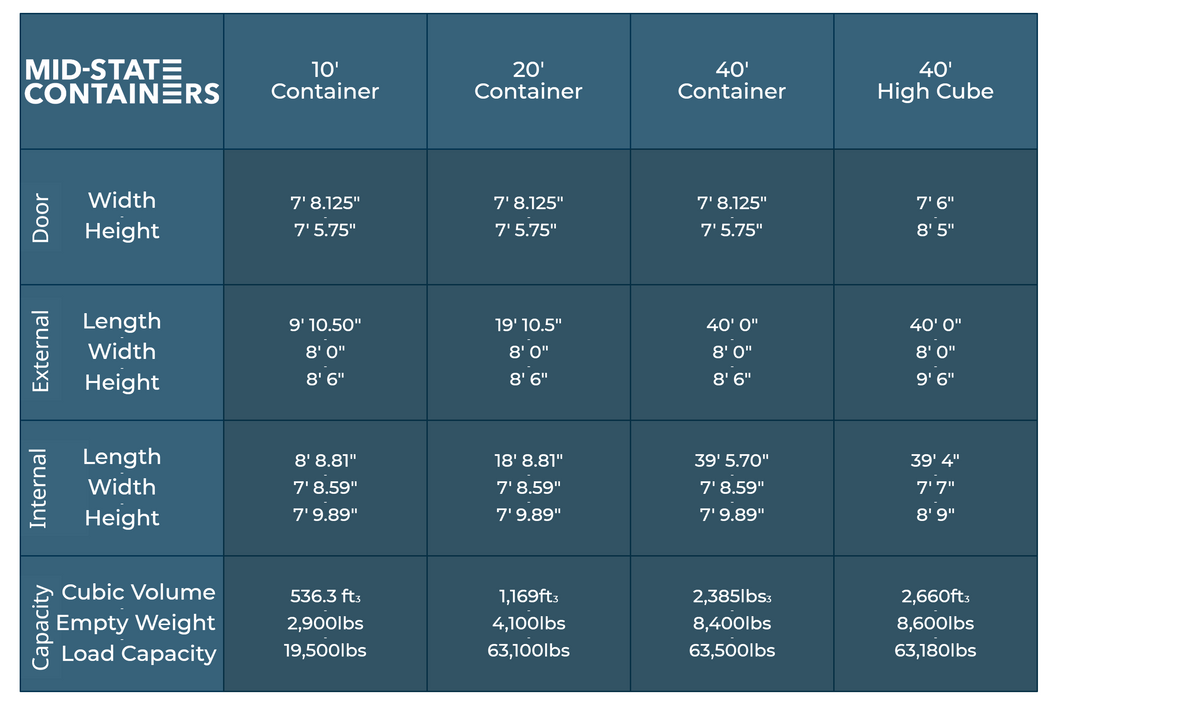 What metal is it made from?
Shipping containers are made out of corten steel. It's a special type of steel meant to aid against weathering.
What floor is in it?
Our containers floors are hardwood, 1 1/8th-inch thick. We have different modification options available, though.

View our flooring options here.
Is there a smell and if so, how do I get rid of it?
Oh, that's just the sweet smell of your shipping container dreams becoming a reality.
No, but seriously, we do pressure wash the containers inside and out, both when we receive them and prior to delivery. So, if there is a smell, it shouldn't be due to prior usage.
Are there doors on both ends?
Unless specified, no, containers will not have doors on both ends. "Double door" containers will feature doors on both ends, and can be useful if you want your container to have designated entry and exit points.
Is there an electric package?
Generally, no. But Midstate offers container electric packages for all sizes of containers.
View more on our electrical packages here.
Is there insulation?
Shipping containers do not come with insulation, but if you're interested in insulating your container, whether for residential or commercial use, we can do so.
Get a custom quote through the contact form on our website or by giving us a call. You can view our insulation listings here.
Can I expect to encounter hazardous materials or fumes left over from manufacturing of the container or previous uses?
We can't say, as we don't know for sure what was shipped in the containers when going overseas.
Midstate Containers pressure washes all containers inside and out, both when they first arrive and when they are set to be delivered. So even if there might have been potentially hazardous cargo in the container at one point, it no longer poses a threat to future customers.
How do I get an irregular sized container?
Standard container sizes are 20' and 40'. We can fabricate a custom-sized container from a standard-sized unit. Naturally, that'll be more pricey.
Give us a call or email us through the contact form on our website to get a custom quote.
How much does the container weigh?
Container weight varies depending on its size. The weights are listed on the table below in the final row as 'empty weight'.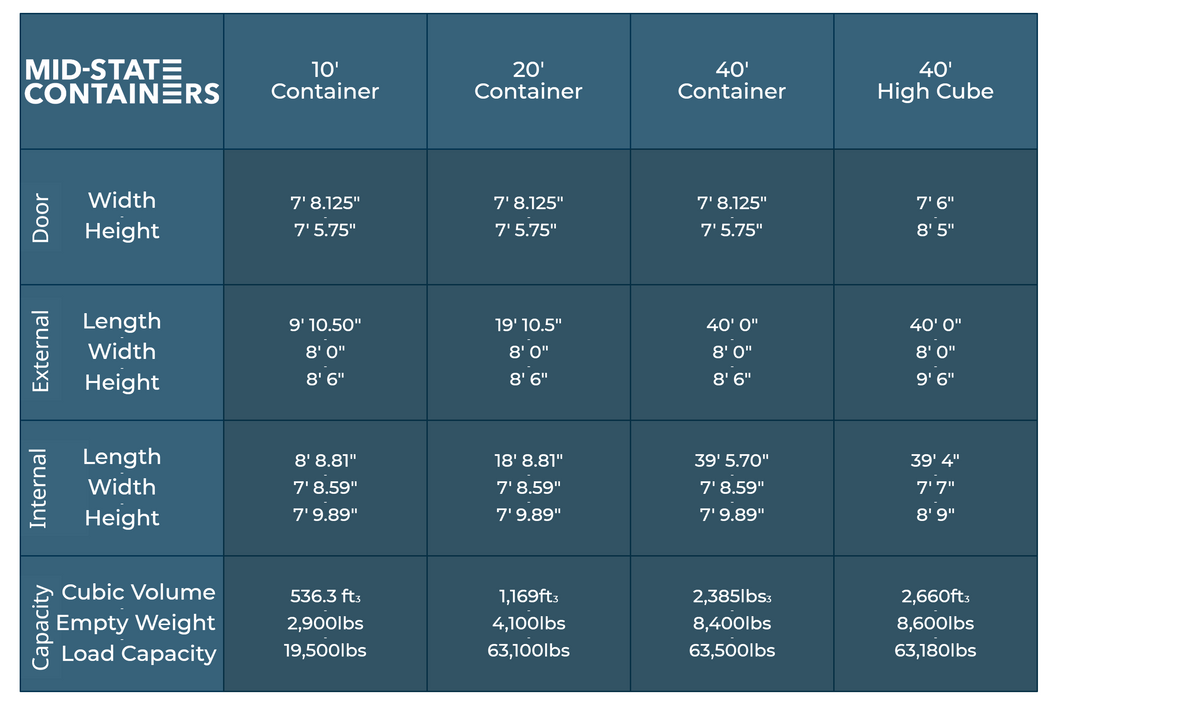 Is there ventilation?
Shipping containers are built with small pressure vents that allow some ventilation, but functionally they are not sufficient.
Midstate offers various ventilation modifications. Check them out here to see if we have what you need. **Hyperlink**
Does it require maintenance?
Yes, if you want your container and the cargo inside of it to remain in high-quality condition, you should maintain it. That includes regular inspections of the roof; regular inspections of potentially rusted areas; examining, lubricating, and repairing doors; checking container modifications for corrosion, water and dirt traps; ensuring the container is on a level surface; and if it's a refrigerated container, servicing it, which may require a qualified technician.
Do they get condensation?
Shipping containers can get condensation, but it depends on a variety of factors, such as temperature, air space, ventilation, moisture content of shipped goods, as well as container usage. Condensation, also known as container rain, occurs when the walls of the container become cooler than the dew point of the air found inside the container.
You can help prevent condensation by using proper insulation and ventilation, desiccants (substance used to sustain dryness), proper pallets, and dehumidifiers.
3. Container rental terms and conditions
What do we provide with a rental?
We provide you with your container rental via delivery.
What are customer's responsibility in renting a container?
It is the customer's responsibility to have the surface that they want the unit placed on as level as possible. We do not level the area for the customer.
Other than that, pay the rental bill on time, keep the rental in shape and you're good to go!
Do I pay for delivery upfront? Do I need to prepay?
We do collect payment for delivery prior to doing so. For rentals, we require the first 2 months of rent upfront, as we have a 2-month minimum when renting. Starting the 3rd month, we bill monthly.
How does payment work and when is it due?
We accept check, cash, or card, both for rentals and purchases.
Payment is due prior to delivery.
Is there a minimum rental period?
Yes, we have a 2-month minimum.
What happens when payment is missed?
Most missed payments are by mistake, usually due to an incorrect or changed email or mailing address.
We will send multiple invoices if a payment is missed, and reach out directly if the payment continues to remain unpaid.
During the rental period, are my belongings insured by Midstate Containers?
No. We recommend customers insure their belongings through a third party in the event they want coverage. Midstate does not offer insurance of any kind.
Can I move the rented container from the original drop-off site?
We do the moving for you and we charge $150 an hour with a 2-hour minimum. That 2-hour minimum is from "port to port," meaning the clock starts when our driver leaves our yard and stops when the driver returns.
Can I purchase the container I am renting?
Yes, you may purchase the container you are renting if you wish. But, two things: (1) whatever has been paid in rent does not go towards the purchase price, and (2) you will get quoted at the most current unit purchase price. For example, if you began renting a unit a few months ago and the purchase price then was, say, $4200, you would not be entitled to that price at the current time. Prices fluctuate with the market environment, so you would be charged at the current designated price.
Can I rent a container and temporarily store it in Midstate Containers yard with my items inside?
Sometimes. But that's highly dependent on whether or not we have the space and for how long you wish to store it. We're not a storage unit facility; access to our yards is extremely limited. If you're looking for a place to store items that you need to constantly access, look elsewhere.
Give us a call or email us through the contact form on our website for more specific information.
Do you offer financing?
No, but you can pay via credit card.
How much notice is needed for the delivery of a rental container?
Due to shortages with both container units and number of drivers available, our current delivery estimate is about 2 to 4 weeks for purchase units and 1 to 3 weeks to rentals.
Is there any site preparation required?
Yes. Customers must have a leveled area for the containers. This is so the bottom corner of the swinging doors do not catch enabling them to open properly.
How much space is required for delivery?
We suggest about 80 feet of straight-line clearance so that driver has enough space to pull out from underneath the container. But, for a 40' unit, we suggest at least 120 feet of straight-line clearance.
How is the container delivered?
Containers are delivered with a truck and goose-neck tilt-bed trailer. The driver will back into the area, tilt the container, and slide it into place as he pulls forward. This is why we ask for a certain amount of straight-line space at the drop area. (Eighty feet of clearance for 10' or 20' container; 120 feet for a 40'.)
What trucks are used to deliver a container?
Midstate uses pickup trucks with goose-neck tilt-bed trailers.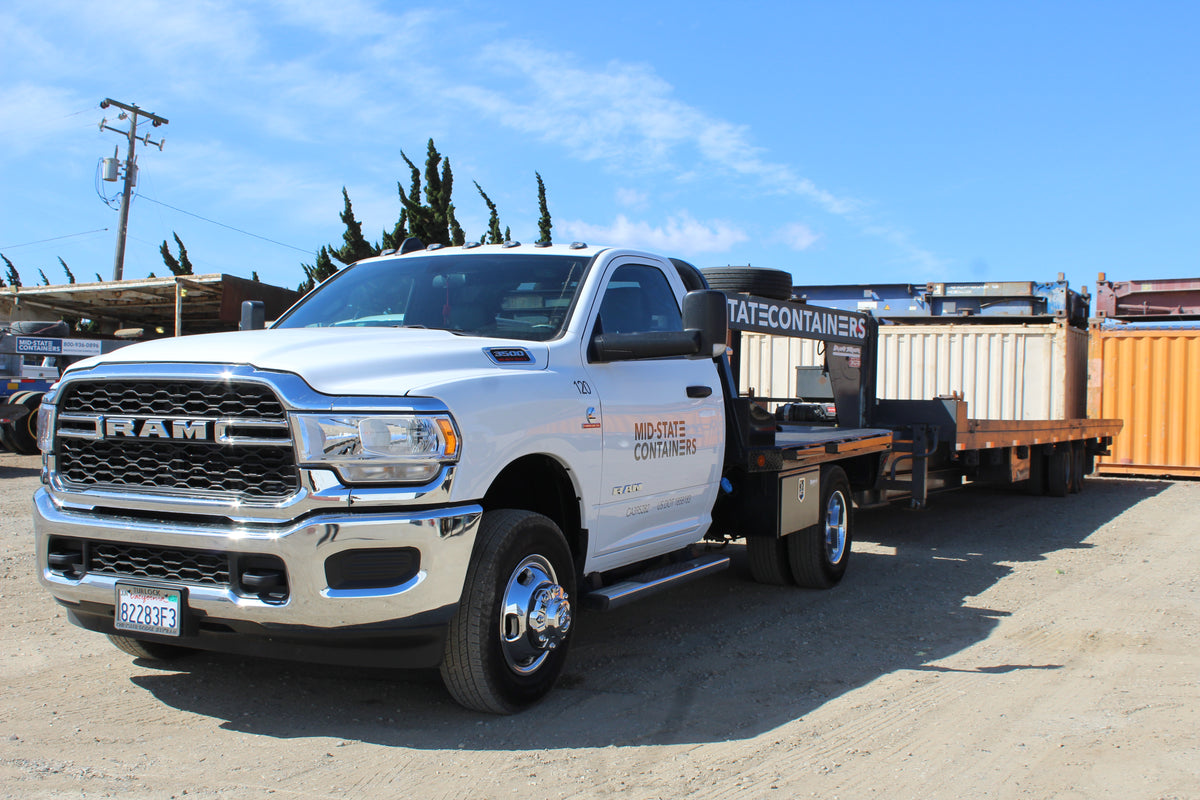 Will your driver level the container once delivered?
No. It is the responsibility of the customer to have the drop location leveled for the container prior to delivery.
Can the container be placed on supports/stilts/railroad ties/timbers for leveling or support?
Absolutely. If you have trouble getting a completely level surface, you can use wood blocks, railroad ties, or any other safe, desired method to attain a level surface for the container.
Below is an example of a container being placed on wood blocks enabling it to be level.
How much overhead clearance is required for delivery?
Container height when sitting on the bed of the trailer is 13-and-a-half feet. As long as you have 14 feet of clearance, you should be OK.
The highest point while it is being tilted is about 16'.
Will the container damage my driveway?
Delivery is a standard drop-and-go, so it can crack concrete and it has happened before. The drivers have a winch to help ease the drop, but possible cracking or other damage, while exceptionally rare in our case, could possibly occur.
Is it okay to place my storage unit on the street?
We can place the storage container on the street, but we urge you to contact your city government regarding the rules and regulations of doing so.
I already have a container. Can you move it?
Yes, we can. We charge $175 an hour with a 2-hour minimum "port-to-port," meaning the clock starts when our driver leaves the yard and it doesn't stop until they get back. The driver will leave from the nearest yard to your location.
Can you move a loaded container?
No, we do not move loaded containers. Containers must be empty if you want us to move them.
Can I pick up a container myself?
Yes, customers can pick up their containers themselves, but you would need to schedule with our office ahead of time to work out the best date and time.
What happens if the container is not what I expected when it gets here?
In an ideal world, the container we deliver to you is nearly identical to what you expected, as we have example photos online and can answer any question you have prior to order, purchase, and delivery.
In the event the container is not what you expected, we can issue a refund.
Do I need a permit to place a container on my property?
This is dependent on the city and local government laws and ordinances. Contact your local government for specific information.
Does it need a foundation if not placed on concrete or cement?
No, it does not need a foundation, but the ground it is placed on must be level.
If you are placing the container in an area that may be prone to flooding, we suggest using blocks to elevate the container. (E.g., heavy-duty cement slabs, railroad ties, or a gravel pad.)
How quickly can you deliver once the order is placed?
Delivery speed depends on whether or not we have the container in stock. If it's something we have, it can be as quick as 1 to 3 weeks. This gives dispatch enough time to schedule accordingly.
Will you deliver early in the morning or after hours?
Yes, most likely. But we need proper notice. If you need a specific time and date, let us know as soon as you can. The sooner we know, the sooner we can coordinate with dispatch.
5. Custom modifications and various use cases of customized containers
What bells and whistles can be added to a simple container?
Midstate offers many different modification options for your container. View them in our menu under 'Modifications'.
What is the upcharge?
No upcharges here. Delivery and tax are all included in the final bill for one easy price out the door.
What are some different or creative uses for shipping containers?
We've done office units, "man caves," bedrooms for children, refrigerated units for drying and curing cannabis, open-space rooms, coffee shops, and more. Shipping containers are becoming increasingly popular; the internet is full of amazing and creative examples of shipping containers converted for other uses.
How many roll up doors can be added?
We can add as many that can fit, as long as the unit maintains structural integrity.
If you request modifications on a container, we'll send over a diagram of either a 20' or 40', where you can then mark where you want your modifications, such as roll-up doors.
Are roll up doors and other additions wind and watertight?
Yes. All modifications are of the utmost quality and will keep your cargo protected from the elements.
How long does it take to add modifications to a container and get it delivered to a customer?
That depends on the type and number of modifications requested. For fairly straight-forward modification jobs, such as windows, doors, ventilation and such, it can take from 2 to 4 weeks.
For more specific feedback, get a quote by phone or through our website.
Will you fix my reefer when it breaks?
If the unit is rented from Midstate, we'll come and fit it at no charge. If it's a purchased unit, we can send someone out there, but we'll have to charge you for the job done.
Do you offer a warranty?
For refrigerated containers, we offer a 60-day parts-and-labor warranty for units purchased from us. Anything after that, we will charge.
Do you offer liability insurance or a damage waiver?
No. But the customer can get insurance on the unit through a third party if they'd like.
Why am I having a hard time opening doors?
That could be due to a few things. First and foremost, check the frames of the doors and hinge pins, are any bent or appear to be damaged?
Is your container on level ground? The doors could get stuck if not.
Is any rust visible? Rust could prevent the doors from opening as well.