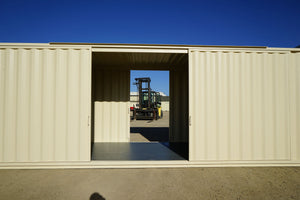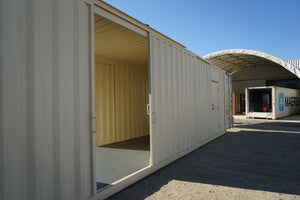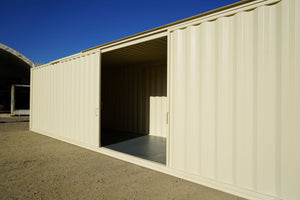 Doors Modifications
ROLL UP DOORS
Roll up doors are one of our most common modifications. These garage style doors allow for quick and easy access on any side of your container, come in lengths of 3'6", 4', 6', 8', 10' and 12' wide (6' and 8' are the most common, thus installed in the quickest time frame), and are great when installed opposite the swing doors giving you access from both ends of the container. 
While these doors are not as secure as a steel man door or the original cargo swing doors, they are much easier to get into than the cargo swing doors and are a great solution to needing more and larger access points to your container. We can install multiple roll doors along one side of a container giving you the ability to forklift goods into the side of the container, not getting things trapped at the opposite end of the swing doors. 
Some of our customers have these installed when the elderly or young adults need regular access to the container and might have more trouble opening up the original swing doors. 
Lock boxes can be installed on roll up doors for added security. Most roll doors are 7'6" tall on average, but for High Cube containers, taller roll doors can be custom ordered. 
MAN DOORS
Personnel doors or man doors come both in a light weight version as well as a heavy steel version. The average width is 36" but wider or narrower doors can be custom ordered. Doors can be installed anywhere on your shipping container and add a level of convenience and usability otherwise not found with a storage container. 
All doors come with knobs that lock and a deadbolt unless otherwise specified, and can open in-swing or out-swing, left to right or right to left. 
Lock boxes can be installed on a heavy steel man door for additional security. 
We highly recommend a man door when you will be in and out of your cargo container multiple times a day, are using it as a workshop or studio, and when the size of the cargo swing doors are not necessary for the majority your needs when loading and unloading items out of your seatrain. 
Windows & Skylights
WINDOWS
Windows can be a helpful addition to any shipping container, especially if natural light is desirable, you will be spending any length of time inside your cargo container, when fresh air would be needed, or if you plan to use your container immediately or down the road as a workshop, studio, living space, ground level office, or shop. 
We typically use 3'x3' duel pane vinyl sliding windows. We can get you any size or type of window you may need if you have a custom project or have a certain style of window in mind. 
For added security, bars can be installed as well as corrugated steel shutters to ensure your seatrain against break ins.
SKYLIGHTS
Skylights are a great way to add natural light into your shipping container and are very helpful when light is needed and an electric package is not an option. 
If you plan on spending any length of time in your cargo container, we recommend considering a skylight. The added cost to install a skylight is easily offset but the practical element of having natural light without power requirements. 
The most common sizes we use are 2'x4' and 2'x2' but any custom size can be installed.
Lock Boxes Modifications
Lock Boxes are pre-fabricated steel rectangular boxes that are welded onto the cargo doors of a container to add an extra level of security. 
All container swing doors have four latches on which you can put a padlock, but most padlocks are susceptible to being breached with bolt cutters. A lock box surrounds the padlock so that no one can get to it with a pair of bolt cutters. 
This is a very affordable and easy way to make it that much more difficult to break into your container. 
Most new "One Trip" containers have lock boxes installed in the factory and we can usually get a lock box installed on a used container in no time. 
We highly recommend purchasing a lock box when your container will be storing expensive items (tools or expensive building supplies), will be in a public location, not on private property, or if you have a neighborhood with high crime levels. Roll Up Door Lock Box
Options, Pricing
| | |
| --- | --- |
|  Standard Cargo Door Lock Box |  $125 |
|  Steel Man Door Lock Box |  $125 |
|  Roll Up Door Lock Box |  $175 |
Vents Modifications
Vents are an excellent way to economically modify your container to allow for more fresh air flow and a lower internal temperature. 
All shipping containers come with small pressure vents at the two ends (about the size of a pack of cigarettes) for breathability, but these do not provide a level of ventilation that some applications may need, especially in hotter-than-average climates. 
Turbine vents and louvre vents are an effective method of getting good airflow inside of your cargo container, especially if you will be using it for storing perishable items, heat-sensitive material, or will be utilizing your container as a garage, workshop, or bare-bones office. 
Turbine vents, also known as whirlybird vents, are installed on the roof of the container and spin, thus creating a vacuum inside the container that sucks air out of the container. These vents are ideally paired with a Louvre vent, providing a fresh air access point at one end of the conex container and the suction on the roof, moving clean air in and old air out of the top. 
Louvre vents, also known as side vents, are the most economical and easy way to get extra air flow into your container immediately. Often times customers will purchase two of these vents and place one at each end of the container, positioned diagonally from one another, with one installed low and the other high. This allows a cross breeze to flow from low to high throughout the entire shipping container. 
Options, Pricing
| | |
| --- | --- |
|  Louvre Side Vent |  $175 |
|  Turbine Vent |  $250 |
|  Solar-Powered Roof Vent Fan |  $750 |
Paint Modifications
At Midstate, we aim to provide a high-quality paint coating for both appearance as well as durability and extending the life of your container. We don't simply slap paint over the original paint, our process includes:
Pressure washing the container inside and out

Making sure the doors are in proper working order

Lifting any low spots in the roof so water doesn't pool up in the future

Prepping the container by grinding down any surface rust and original peeling or chipped paint with a steel wire wheel

Applying primer after prepping the container

Painting all of our units with Direct To Metal (DTM) industrial-grade metal paint
We can also cover your shipping container with elastomeric (rubberized) roof covering if needed. We can regularly cover cargo containers or the roof of containers with marine-grade two-part epoxy. (That's the same stuff offshore oil rigs are coated with.) 
Our paint supplier is Sherwin-Williams, so any colors from both Sherwin or Frazee can be used if you need a specific color. 
Options, Pricing
 Custom paint color
 +$50
 10' Container

Exterior

Paint
 $400
 10' Container

Interior

Paint
 $200
 20' Container

Exterior

Paint
 $500
 20' Container

Interior

Paint
 $300

 40' Container Exterior Paint

 $700
 40' Container

Interior

Paint
 $500
 45' Container

Exterior

Paint
 $750
 45' Container

Interior

Paint
 $500
Reviews